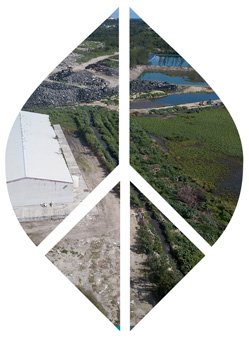 New Providence Ecology Park, Ltd. (NPEP) is a 100% Bahamian-owned business that currently is contracted with the Ministry of Environment and Housing for the remediation, upgrade and operation of the New Providence Ecology Park (formerly the Harold Road Landfill).
In 1991, after a $35 million investment in the facilities at the Harold Road Landfill by the International Development Bank and Government of The Bahamas, New Providence had the tools and a comprehensive blueprint on how to manage its solid waste system. Twenty-seven years later the facility still struggled with yearly raging fires, groundwater contamination, gas emissions, mosquitos and other vectors, all of which threatened the health of the surrounding residents, the waste collection company employees, and the lifeblood of the local economy – the tourism industry.
In 2018, The Bahamas Ministry of Environment and Housing issued a public tender to once and for all transform this massive public liability into a public asset. NPEP was formed to respond to this tender, a partnership between Waste Resources Development Group and Providence Advisors, Ltd.
NPEP won the tender in late 2018. Since commencing work in March of 2019, NPEP has managed a remarkable transformation of the Ecology Park, including but not limited to:
Consolidating and capping over 80 acres of waste,
effecting rigorous solid waste handling practices in accordance with U.S. EPA Subtitle D regulations,
implementing modern best-management-practices for maximum protection of human and environmental health, and
commencing recycling and recovery activities for construction demolition debris and vegetative waste.
Elements to be constructed and implemented in the coming months and years include:
A new residential Dropoff Facility
A new material recovery facility (recycling center)
Landfill gas collection and recycling infrastructure
A public green-space developed on reclaimed landfill property